---
---
---
---
---
---
---
---
---
---
---
---
---
---
---
Search By Type: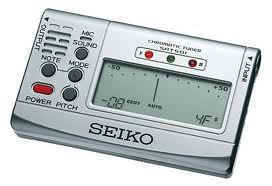 SEIKO SAT501 Chromatic Tuner
$22.75
Or Call (800) 586-3876
Features:
Selectable Auto-Tuning, Manual-Tuning, and Sound Modes..
12 pitch reference notes (C4-B4).
Adjustable calibration (415, 438-445hz).
Built in microphone
Key transposing for tuning a variety of instruments (C, Eb, F, Bb)
1/4" input and output jacks
Wide tuning range for Bass guitars and drop-tunings (A0-C6).
Auto Power-off after 20 minutes with memory back up.
2 AAA batteries included.
Available in Blue Or Silver
Size: 106(W) x 69(H) x 16.5(D)mm.
Tuning accuracy + or - 1 cent




Metronome Stand - will keep your metronome/tuner & pens off your music stand, allowing page turning and prevents items from falling.